Save 40% today! code: JOY1740
Frames
Choose a color »
ø
Top Mat

|

Middle Mat

|

Bottom Mat
ø
Glazing
Style
1½ inches thick (3.75 cm)
Product Details
Artist grade canvas, archival inks,
wooden stretcher bars,
and UVB protective coating
Availablity
Usually ships within five business days.
Artist
Patricia Sanders
Collection
nature
Explore
About the artist
Patricia Sanders
Member Since
May 2008
Artist Statement
To see my biography go to my website...
My blog:
squidoo squid
I belong to squidoo. It is a great community of lensmasters who write lenses and talk with each other. You can make money on squidoo too. Have a blog? This is a great way to get your blog some traffic.
Join squidoo here: http://www.squidoo.com/lensmaster/referral/Jewelsofawe


My lensography: http://www.squidoo.com/jewelsofawelensography
What is a lensography, you ask?
It is a place to put all of your lenses onto one lens. It puts a small picture of the lens with the title for you to look at before you click on any one title. If you are a giant squid or not you will want to make a lensography.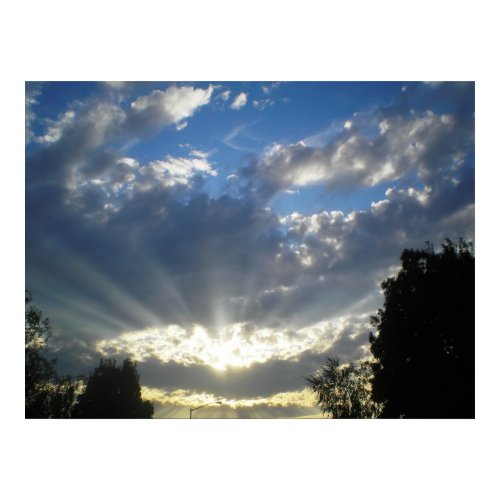 I have a zazzle store and sell the above poster there. It is a picture of the sky here where I live the other day. I thought it looked majestic. I have a lens at squidoo for my poster and canvas prints: http://www.squidoo.com/inspirational-and-scenic-posters
Visit my store by clicking on the above banner. The great thing about squidoo is that you can share your zazzle store on squidoo. Other squids are busy surfing through the squid community and looking at the varied and great lenses of everyone. You can make a lens on your zazzle store or more than one like I did and share with people some of your products. Here are links to my zazzle squidoo lenses:
http://www.squidoo.com/artisticcardsyoucancustomize
http://www.squidoo.com/artisticmousepads
http://www.squidoo.com/joacreations-my-zazzle-galley
http://www.squidoo.com/artisticseriesshoes